Konsistensi aliran keuangan dengan Perjanjian Paris: studi kasus Indonesia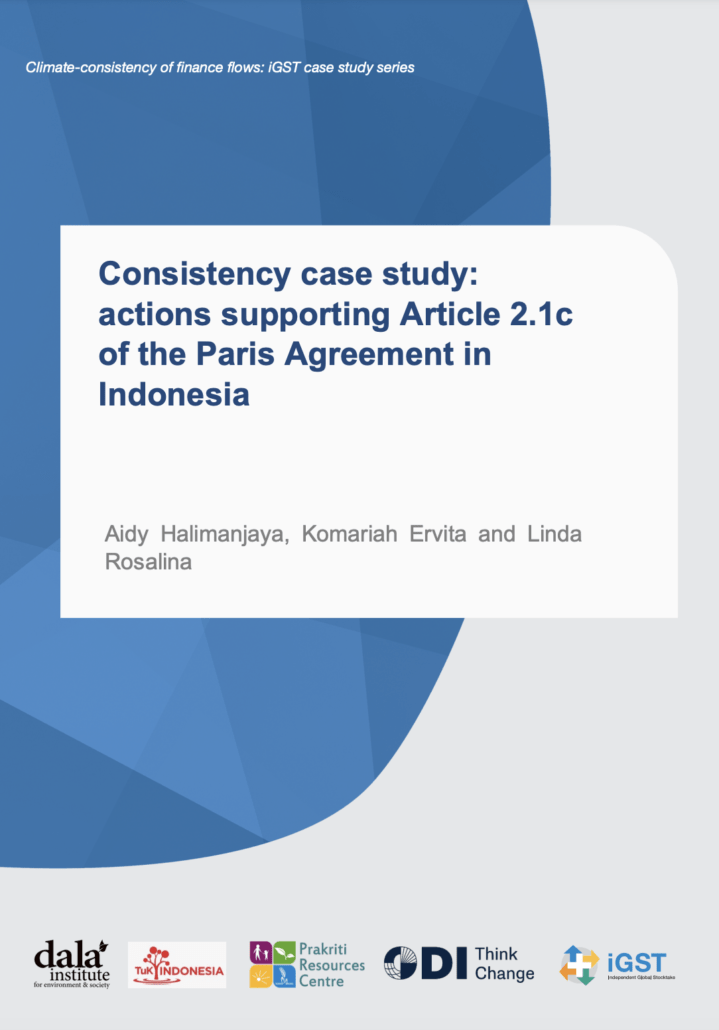 Indonesia adalah salah satu penghasil emisi gas rumah kaca terbesar di dunia, namun sejak tahun 2010 telah memulai perjalanan yang mantap untuk menyelaraskan kembali aliran keuangannya dengan Pasal 2.1(c) Perjanjian Paris. Namun, hingga saat ini belum ada upaya untuk menilai keselarasan aliran keuangan pemerintah dan swasta dengan tujuan jangka panjang tersebut. Kepresidenan Indonesia di G20 pada tahun 2022 memberikan peluang ideal untuk melihat kemajuan ini dan menerapkan Pasal 2.1(c) di negara ini untuk pertama kalinya.
Finance Working Group of the independent Global Stocktake (iGST) yang independen ini mengidentifikasi serangkaian tema dan kategori yang relevan untuk menilai aliran keuangan Indonesia, terutama di sektor AFOLU dan energi dengan emisi tinggi. Penyelarasan Paris dalam berbagai kebijakan pemerintah dan swasta yang penting bagi transisi Indonesia dinilai dalam laporan ini, termasuk penerbitan sukuk hijau (obligasi berbasis syariah) dalam skala besar, taksonomi hijau spesifik sektoral (THI) yang ambisius, dan penandaan anggaran iklim, serta sektor pendanaan ESG dan investasi dampak yang sedang berkembang di negara ini. Secara keseluruhan, laporan ini menemukan kesenjangan yang signifikan antara komitmen kebijakan dan implementasi ambisi pendanaan iklim publik dan swasta yang mengancam keselarasan Paris.
Detail dalam PDF
Studi kasus konsistensi: tindakan yang mendukung Pasal 2.1c Perjanjian Paris di Indonesia
This post is also available in: English