Press conference – Zulhas' Statement Opposing the Anti-Deforestation Law is Misguided
Jakarta, August 3, 2023. The recently enacted European Union Anti-Deforestation Law is regarded as one of the positive initiative that can encourage industry to stop destroying forests and thus reduce the rate of global carbon emissions. Indonesia, as one of a destination countries for forest and land-based investors, should use this as a momentum to improve forest and land governance, particularly in the palm oil plantation sector which has been a significant economic pillar.
According to Linda Rosalina, Executive Director of TuK Indonesia, economically, Indonesia could be at the forefront as a sources of sustainable forestry products. Furthermore, palm oil plantations owned by Indonesia, the world's largest landowner, will be a determining factor for CPO products globally. However, this will be realized if Indonesia significantly improves the Environmental, Social, and Governance (ESG) index.
This is in response to a statement by Trade Minister, Zulkifli Hasan, who questioned the European Union's Anti-Deforestation Law, which is said to potentially disrupt the country's exports up to IDR 101.3 trillion.
"The government should focus on collaborative efforts to improved the governance of forest and land-based industries such as palm oil plantations. The government does not need to blame the policy. The same attitude should be exemplified when the Indonesian government refuse to budge when Europe sued Indonesia over a ban on exports of nickel ore abroad," Linda continued.
In fact, our forestry industry and palm oil plantations are poorly managed. This demonstrated by the revocation of 193 forestry permits with an area of 3.1 million hectares by the Minister of Environment and Forestry (KLHK), Siti Nurbaya Bakar, in 2022.
Another fact is the the Ministry of Environment and Forestry's release of palm oil plantations in forest areas covering 3.3 million hectares. The presence of palm oil plantations in this forest area has been noted by civil society organizations, but has always been denied. Taking advantage of the Omnibus Low on Job Creation , thesepalm oil plantations within the forest areas will be granted "amnesty" by imposing administrative sanctions.
As if seeking justification for this situation, 8 million small-scalefarmers are said to be most affected by the European Union's policy. In fact, based on TuK Indonesia's analysis of the Minister of Environment and Forestry Decree on Data and Information on Business Activities Established in Forest Areas without
Forestry Permits Phase I to XI, Central Kalimantan Province has the highest number of large-scale palm oil company control, with a total of 320 business units and a combined plantation area of 559,016 hectares. Referring to above facts, Zulhas, as the Minister of Trade, should not panic and act as he is a victim of the law. Zulhas should realized that this is a burden of past sins from when he served as the Minister of Forestry and released millions of hectares of forest areas in Indonesia.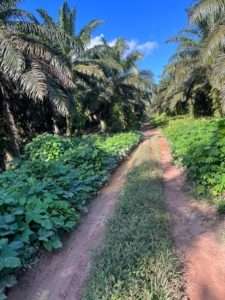 Referring to the data from
BPKP
data, a total of 79% of the required plasma from 2,864 companies in Indonesia has not been established. These companies were supposed to allocate 20% for the development of smallholder or plasma plantations. Therefore, the claims of the affected people regarding the impact of the the European Union's anti-deforestation policiy are not entirely accurate and need to be proven to the public. In smaller regional context, data from Central Kalimantan Plantation Office (2020, 2022) records that in 2020, there were 1,314,415.21 hectares of core palm oil plantations with plasma plantations covering only 206,770.65 hectares. By 2022, the core palm oil plantations had expanded to 1,349,154.95 hectares, while the plasma plantations covered 214,829.41 hectares, indicating that the realization of plasma development in Central Kalimantan was only 14%.
As a resolution to the European Union's anti-deforestation policy, the government must respond promptly implementing a series of structured and systematic policies. First, halts the issuance of permits in forest areas for industries that pose a risk to the forests, such as palm oil plantations and mining. Second, evaluate existing palm oil plantations, especially those that have been planted in forest areas, to optimize state revenue from this sector. In addition, social impacts should be taken seriously, particularly efforts to address ongoing structural land conflict . Ensuring workers' rights is equally important. . Lastly, the government must resolve the issues related to the development of plasma.
Related Link :
This post is also available in: Indonesian
https://www.tuk.or.id/wp-content/uploads/WhatsApp-Image-2023-08-03-at-14.59.13-2.jpeg
1024
768
TuK Indonesia
http://www.tuk.or.id/wp-content/uploads/2018/12/Logo-Tuk-Indonesia-340-300x136-300x136.png
TuK Indonesia
2023-08-03 16:16:35
2023-08-08 03:03:52
Zulhas' Statement Opposing the Anti-Deforestation Law is Misguided