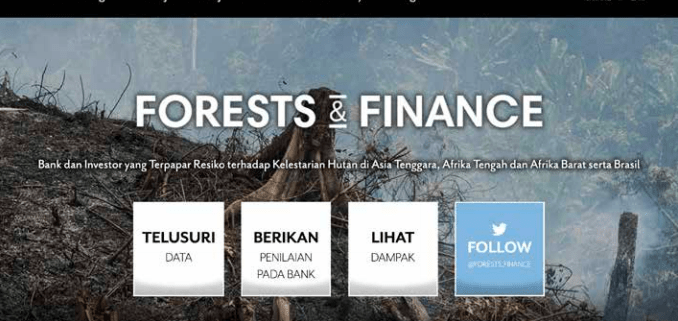 A. Muh. Ibnu Aqil
Jakarta / Fri, September 11 2020
An ongoing report by environmental groups suggests that the banking and financial services sector should be liable for deforestation, as they continue to provide services to clients driving massive fires that raze swathes of land and tropical forest cover in countries like Indonesia.
According to forestsandfinance.org, a website run by multiple civil society groups from around the world, nearly US$154 billion in credit lines and loans were granted between 2016 and April 2020 by banks to companies that are prone to driving deforestation and land degradation.
Among the creditors named are three Indonesian state-owned banks – Bank Mandiri, Bank Negara Indonesia (BNI) and Bank Rakyat Indonesia (BRI) – which, together, provided more than $8 billion in loans and underwriting, according to Forests and Finance.
In its report, BNI provided at least $2.39 billion in underwriting, while BRI and Mandiri offered $3.3 billion and $2.93 billion, respectively.
It also became clear that Malaysian and Singaporean banks were also major financiers of the fire-linked groups, despite their countries and economies also being severely impacted by transboundary haze.
At a recent webinar, Edi Sutrisno, executive director of the TuK Indonesia environmental advocacy group, said the report singled out banking clients in the palm oil, pulp and paper, rubber and soybean industries as carrying an outsized risk of driving forest fires.
He insisted the report was not meant to antagonize the sectors but served more as a warning for banks to apply sustainability practices more strictly.
"There won't be any more room to hide," the activist said last week.
Of the 37 identified corporate groups developing areas of flammable peatland or with a history of fires in their concessions in Indonesia, the report has identified financing for 19 of them.
It shows that between 2015 and April 2020, these groups received at least $37.4 billion in loans and underwriting – the figures are adjusted to only capture financing to their palm oil, pulp & paper and rubber divisions.
Pulp & paper and palm oil giant Sinar Mas was the single largest recipient of credit ($15.3 billion) in Southeast Asia, comprising $1.2 billion in credit from BNI, $2.56 billion from BRI and $733 million from Mandiri.
It is followed by Salim Group ($4 billion) and Royal Golden Eagle Group ($3.4 billion).
The initiative was launched by the Rainforest Action Network (RAN), TuK Indonesia, Profundo, Reporter Brasil, Amazon Watch and BankTrack, and reveals financial flows between January 2013 and April 2020 to more than 300 of the biggest forest-risk commodity companies whose operations impact forests in Southeast Asia, Central and West Africa, and Brazil.
Edi said in a statement on the Forests and Finance website that banks and investors doing business in Indonesia were "routinely financing deforestation, destruction of peat and human rights violations" and "failing to disclose" it to the public.
"Urgent reforms are needed that compel banks to implement stricter lending criteria and which open up the financial sector to greater public scrutiny and monitoring," he said.
Bogor Agricultural Institute forestry expert Hariadi Kartodihardjo called on banks to seriously follow up on the Forests and Finance report.
He also underlined the fact that sustainable financing had become the norm as well as a legal requirement, particularly as it relates to Financial Services Authority (OJK) Regulation No. 51/2017 on sustainable financing.
"We cannot only analyze business [practices] without considering how the environment would be affected," Hariadi said in the webinar.
OJK spokesperson Sekar Putih Djarot said the OJK had encouraged all financial service providers to enforce financial sustainability practices, including by internalizing environment, social and governance (ESG) principles.
"The application [of ESG principles] still takes time to be fully implemented by financial service institutions. The OJK continues to encourage them to take heed of such principles in [offering] credit, financing and investment," Sekar told The Jakarta Post over the weekend.
However, if a bank found that one of its clients was proven to have damaged the environment, it was the responsibility of the service provider to reprimand them in accordance with the guidelines set up by the OJK, she said.
BNI corporate secretary Meiliana said the bank had required its debtors to follow the prevailing regulations on environmental protections, including approval for environmental impact analysis (Amdal) and other documents.
"BNI also audits our debtors whose industries have had a negative impact on the environment, so as to determine whether they have fulfilled the ESG aspects of their business," Meiliana told the Post on Sept. 4.
Separately, BRI corporate secretary Aestika Oryza Gunarto said the bank was committed to granting credit only to environmentally friendly businesses, as the lender was recognized by various sustainability indices.
"These policies are implemented through a selection and evaluation [process] of our debtors and prospective debtors to make sure that our financing facilities remain sustainable," she told the Post on Sept. 7.
Neither Meiliana nor Aestika provided any further response when asked about their clients that made the Forests and Finance report.
Bank Mandiri did not provide any response when the Post contacted it.
Following the massive fires of 2015, the government promised tough measures against corporate actors responsible for environmental damages. In 2019, the Environment and Forestry Ministry sealed off 90 palm oil, pulpwood and rubber companies because of the fires, with as many as two dozen corporations reportedly facing civil or criminal sanctions.
However, very few investigations have resulted in meaningful sanctions, critics say, and even fewer sanctions issued have been enforced by the courts, with hundreds of millions of dollars in fines unpaid.
In the absence of risk management regulations or financial sector due diligence, the problem has been largely ignored by banks.
Despite a recent slowdown in the rate of deforestation in the country, the 2019 fires still wiped out 1.65 million hectares of forests, the highest in four years – the 2015 blaze razed 2.61 million hectares of forest cover.
In 2019 alone, tropical deforestation reached 11.9 million hectares.
___
Source: https://www.thejakartapost.com/paper/2020/09/10/banks-contribute-to-deforestation-land-degradation-report.html
https://www.tuk.or.id/wp-content/uploads/2020/09/Screen-Shot-2020-09-02-at-15.52.26.png
383
678
TuK Indonesia
http://www.tuk.or.id/wp-content/uploads/2018/12/Logo-Tuk-Indonesia-340-300x136-300x136.png
TuK Indonesia
2020-09-11 13:10:03
2020-09-11 13:10:49
Banks contribute to deforestation, land degradation: Report