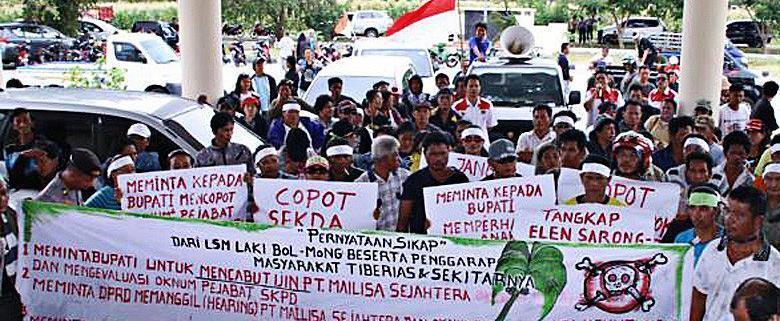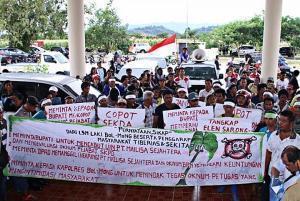 Residents of Tiberias village in Bolaang Mongondow, North Sulawesi, have called on the government to help end their land dispute against plantation company Malisya Sejahtera that has not yet shown any sign of settlement since it started in 2015.
The company has allegedly claimed the land where Tiberias village is located and has become the sole livelihood of its people since 1890s. The locals have reportedly been forced to hand over their agriculture harvests to the company in 2015.
The right to cultivate (HGU) obtained Malisya Sejahtera in 2001 is deemed flawed by the locals as the company was legally established only in 2002.
"There is no way a permit can be issued before the company even exists," said Abner Patras, a representative of Tiberias residents in Jakarta on Sunday.
When Tiberias residents took their case to the court, they won the lawsuit – but it was only related to the company's legal status and not on the premature issuance of the HGU.
Abner said Tiberias people had occupied and managed the land since the Dutch colonial administration brought them from Sanger Island, North Sulawesi, to the village to cultivate. After Indonesia's independence in 1945, the people have continued to live in the village, where they have lived through up to three generations from reaping what their ancestors sow, including coconuts and other crops.
Since the company claimed their land, the villagers have faced a series of intimidation. "The intimidation has traumatized the people," said Indonesian Forum of Environment (Walhi) North Sulawesi executive director Theo Runtunewe.
The Jakarta Post
https://www.tuk.or.id/wp-content/uploads/2017/12/JakartaPost-1.jpg
523
780
Mubarok Khalid
http://www.tuk.or.id/wp-content/uploads/2018/12/Logo-Tuk-Indonesia-340-300x136-300x136.png
Mubarok Khalid
2017-12-11 17:34:44
2018-12-28 16:10:35
Tiberias residents seek govt's help to end land dispute