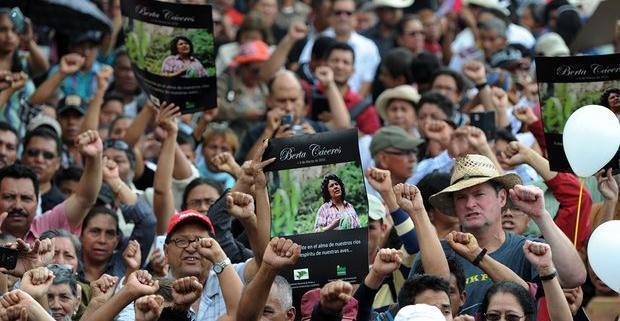 The murder of another member of Berta Cáceres' activist organisation Copinh comes amid growing fears for the safety of her colleagues and family members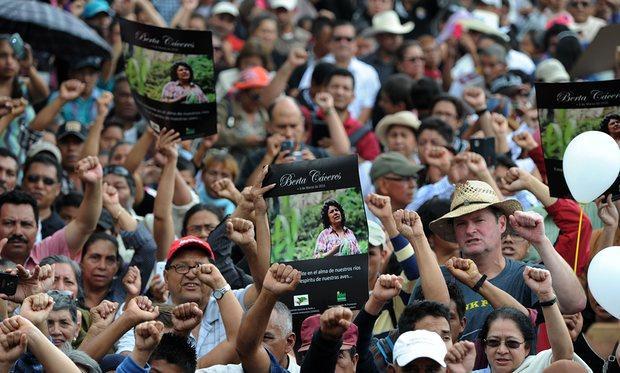 Hundreds gathered for the funeral of murdered indigenous activist Berta Cáceres, in La Esperanza on 5 March 2016. Photograph: Orlando Sierra/AFP/Getty Images
Another indigenous activist has been murdered in Honduras amid an escalating wave of repression against the relatives and colleagues of renowned campaigner Berta Cáceres, who was murdered less than two weeks ago.
Nelson García, 38, an active member of the Civic Council of Popular and Indigenous Organisations of Honduras (Copinh) was killed on Tuesday after a violent eviction carried out by Honduran security forces in a nearby Lenca indigenous community.
García was shot dead in the face by unidentified gunmen as he returned to his family home in Río Lindo, north-west Honduras – about 100 miles south of La Esperanza where Cáceres was murdered at home on 3 March.
García spent the morning with the Río Chiquito community where more than one hundred police and military officers helped evict dozens of families from land which local politicians claim doesn't belong to them. Their simple timber houses and crops were destroyed using heavy machinery yesterday morning, according to Copinh.
Cáceres co-founded Copinh 22 years ago amid growing threats to Lenca territory from loggers, farmers and state-sponsored projects.
Last year, the activist won the prestigious Goldman Environmental Prize for her opposition to one of the region's biggest hydroelectric projects, a cascade of four dams in the Gualcarque river basin, including the Agua Zarca dam. The river is sacred to the Lenca people and the proposed dam would cut-off food and medicine supplies to nearby communities.
Cáceres was shot dead at her home after suffering years of intimidation and threats against her life linked to her activism.
Since then, there has been growing fears for the safety of her colleagues and family members who have been subject to harassment and intimidation by the authorities.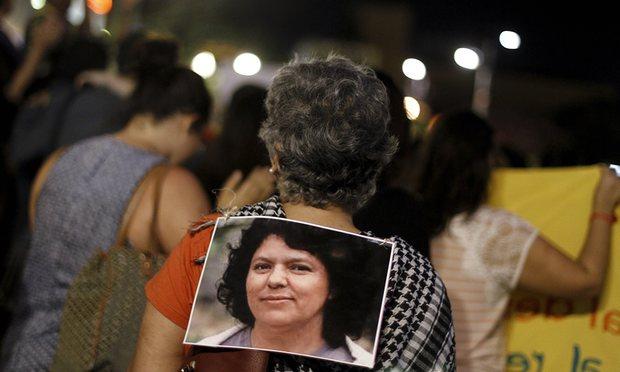 An activist carries a photo of Berta Cáceres during a protest to mark International Women's Day in San José, Costa Rica, on 8 March 2016. Photograph: Juan Carlos Ulate/Reuters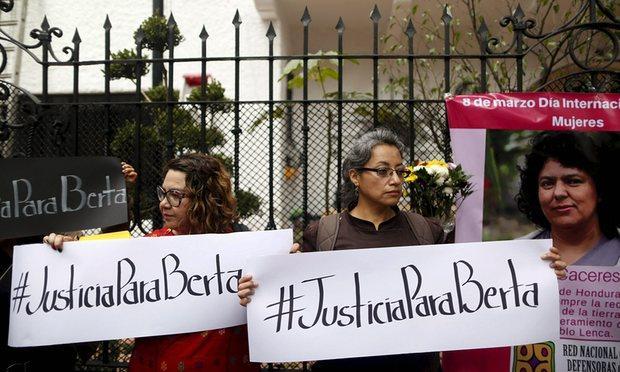 Activists demonstrate during International Women's Day outside the embassy of Honduras in Mexico City. Photograph: Edgard Garrido/Reuters
According to Copinh, eight of the organization's nine coordinators in La Esperanza have since been interrogated for up to 12 hours at a time on numerous occasions without being properly informed of the reasons for their questioning. Aureliano Molina, one of the group's leaders, was detained hours after the killing and released 48 hours later without charges. A few days later, several unidentified men driving cars without number plates circled Molina's home and tried to gain entry to conduct an illegal search.
The comings and goings in various Copinh offices, including the community radio station and a women's shelter, have been subject to illegal monitoring since the murder. In addition, police officers were observed photographing protesters last week at a march in La Esperanza demanding justice for Cáceres. One of her daughters has also reported being followed by plainclothes armed men in the capital, Tegucigalpa.
"We demand an end to the persecution, harassment and the war against Copinh members," the group said in a statement on Wednesday. "We demand justice for our dead colleagues from the Honduran government and an end to impunity."
Amnesty International is among several international human rights groups to raise the alarm about the welfare of Mexican activist Gustavo Castro Soto, who witnessed the murder of Cáceres and suffered gunshot wounds himself, as he has been prevented from leaving Honduras.
An urgent request made on 5 March by the Inter-American Commission for Human Rights for safety measures to protect Copinh members, Soto and Cáceres' family has so far been ignored by the Honduran government. Copinh and Caceres' daughter Bertha have called for an independent investigation into the activist's death.
Honduras is the most dangerous country in the world for environmental defenders with 101 murdered between 2010 and 2014, according to the NGO Global Witness.
Link:
http://www.theguardian.com/world/2016/mar/16/berta-caceres-nelson-garcia-murdered-copinh-fellow-activist
https://www.tuk.or.id/wp-content/uploads/2016/03/4256.jpg
373
620
TuK Indonesia
http://www.tuk.or.id/wp-content/uploads/2018/12/Logo-Tuk-Indonesia-340-300x136-300x136.png
TuK Indonesia
2016-03-17 18:24:57
2018-12-28 17:36:36
Fellow Honduran activist Nelson García murdered days after Berta Cáceres