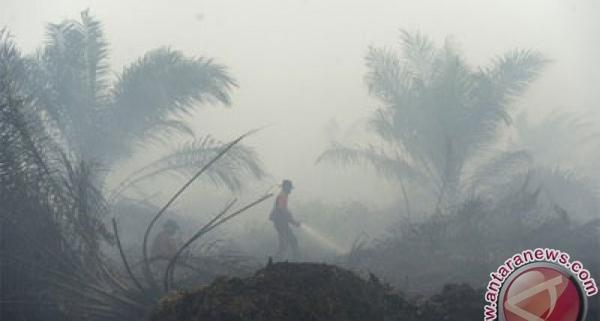 Over 25.5 thousand people taken ill by haze in Riau
Senin, 14 September 2015 19:54 WIB | 1.343 Views
Pekanbaru (ANTARA News) – The Riau health office has recorded that 25,524 people have fallen ill due to the haze as the air quality has reached unhealthy levels in the province.
"Most of them, or 20,901, suffer from respiratory ailments," Head of the Riau health office Andra Sjafril noted here, Monday.
The figure was obtained from the number of people visiting community health centers and hospitals in 12 districts and cities in the province, from June 29 to September 12, 2015.
Some 454 people suffered from pneumonia, 893 ailed from asthma, 1,356 from eye irritation, and 1,920 from skin irritation.
In Pekanbaru, 3,548 people are suffering from respiratory ailments, 2,831 in Kuantan Singingi, 2,576 in Siak, 2,503 in Dumai, 2,227 in Rokan Hulu, and 300 in Meranti Islands.
"I urge the inhabitants who need to venture outdoors to wear face masks of N95 type," he stated.
From September 14 until September 24, four health command posts will remain open respectively at the Sultan Syarif Kasim II airport, the ex-MTQ building complex, the Central Market, and Rumbai in Pekanbaru.
Each post, manned by a doctor and two nurses, will offer first aid to those being affected by the haze.
"Besides this, the command post will also provide face masks and consultations regarding the effects of haze on the health of the residents," he noted.
The authorities have advised the people in Riau to stay indoors, to wear face masks while venturing outdoors, and to stay amply hydrated and eat nutritious food to stay healthy amid the haze problem.
President Joko Widodo (Jokowi) has ordered every stakeholder to help extinguish forest fires and to tackle haze engulfing parts of Indonesia over the past few weeks, National Disaster Mitigation Agency (BNPB) Head Willem Rampangilei stated.
"The presidents instruction on the ongoing haze disaster is to extinguish the fires and to end the haze problem immediately," Rampangilei remarked while visiting the command post of the forest fire task force at the Roesmin Nurjadin Air Force Base, Pekanbaru, recently.
"Within two weeks, plantation fires must be put out," he quoted Jokowi as saying.
(Uu.F012/INE//KR-BSR/A014)
Link:
http://www.antaranews.com/en/news/100478/over-255-thousand-people-taken-ill-by-haze-in-riau
xxxxxxxxxxxxxxxxxxxx
Walhi to assist haze victims in taking legal action
Senin, 14 September 2015 20:10 WIB | 1.466 Views
Jakarta (ANTARA News) – The Indonesian Environmental Forum (Walhi) has opened command posts for suing plantation companies responsible for forest fires that have caused widespread haze in a number of provinces.
In a press statement on Monday, the NGO urged the public to actively fight for their rights for a good and healthy environment, which is free from haze, and their rights for living healthily, as well as the rights of the future generations.
Walhi also called on people living in haze-free regions to show their solidarity to those impacted by the haze, and support the move to sue the authorities.
Most of the hotspots are located inside plantation areas; both oil palm and industrial forestry areas (HTI), as well as mining companies. Walhi pointed out.
Companies must be held accountable for their bad practices, the NGO said.
It also criticized the government for its reactionary response to tackling forest fires and for not addressing the root of the problems that are causing the haze.
The government should review or even revoke the business licenses of companies operating in places where hotspots are found frequently, whether it is their plantation or mining areas, it noted.
The governments negligence and the companies corporate crimes have claimed many victims, particularly children, who have fallen ill due to the haze. Their future is being threatened because they are exposed to the haze, the NGO added.
Walhi said it will provide assistance to individuals wanting to file law suits because the countrys Constitution has clearly stated the right of every citizen to live in a healthy and clean environment.
The command posts will also entertain complaints made by victims of forest fires.
The NGO has set up the posts in haze-prone provinces, such as Central Kalimantan, West Kalimantan, South Sumatra, Riau and Jambi.

(T.M040/Uu.F001/INE/KR-BSR/A014)
Link:
http://www.antaranews.com/en/news/100481/walhi-to-assist-haze-victims-in-taking-legal-action
xxxxxxxxxxxxxxxxxxxxxxxxxxxxxxxxx
Indonesian military deploys 1,059 personnel to overcome forest fires
Selasa, 15 September 2015 19:34 WIB | 1.307 Views
Jakarta (ANTARA News) – The Indonesian Defense Forces (TNI) has redeployed 1,059 of its personnel to overcome the ongoing problem of haze in Riau, Sumatra.
"The decision to deploy the personnel was made following President Joko Widodos instruction on Monday night. Today, I conducted a ceremony to review the forces that would be sent there," TNI Commander General, Gatot Nurmantyo, said after seeing off the personnel at Jakartas Halim Perdanakusumah air force base.
The forces that are being sent to Riau have been drawn from the Army Strategic Reserve Command (Kostrad), the navys marine corps and the air force. They were transported aboard a Hercules plane and three CN-295 aircraft.
Nurmantyo said that the duration for which they would be assigned there depends upon the condition, adding jokingly that he hoped they can return tomorrow.
"It is hoped that it can be overcome immediately. As soon as the haze is gone, they will return," he stated.
Besides Riau, TNI has also deployed its personnel in South Sumatra, with particular focus on Ogan Komering Ilir, which is peat land area.
Peat land fires are harder to control as even though they have been put out; smoke continues to emanate from the soil, which is a problem, Nurmantyo added.
(Reporting by Syaiful Hakim/Uu.H-YH/INE/KR-BSR/A014)
Link:
http://www.antaranews.com/en/news/100513/indonesian-military-deploys-1059-personnel-to-overcome-forest-fires
xxxxxxxxxxxxxxxxxxxxxxxxxxxx
Long-term solution necessary to overcome haze problem: Singapore`s Ambassador
Selasa, 15 September 2015 20:17 WIB | 1.375 Views
Bandung (ANTARA News) – A long-term solution is required to overcome the problem of haze arising from forest fires in Indonesia, Singapores Ambassador to Indonesia Anil Kumar Nayar stated.
"We must unite to overcome the problem of haze. We should find a long-term solution. The problem should be addressed properly," Nayar noted here on Tuesday.
According to the ambassador, haze is an environmental, economic, and health problem that has been faced by Indonesians.
"Therefore, we must cooperate to find a solution as soon as possible," Nayar emphasized.
Speaking in connection with Singapores assistance, Nayar remarked that the country is ready to deploy an aircraft to extinguish the forest fires in Indonesia.
"We have offered the aircraft and expertise. This is not just for now," Nayar stated.
The haze has reached Malaysia and Singapore.
Earlier, President Joko Widodo (Jokowi) had instructed the concerned parties to send one thousand military personnel to Riau Province in order to help extinguish forest fires in the region.
"Although I am on a visit to Saudi Arabia, UAE, and Qatar, I continue to monitor the developments relating to the forest fires in Sumatra and Kalimantan," the president informed journalists in Doha on Monday.
"I have just issued orders to immediately dispatch one thousand soldiers to Riau to overcome the thick smog," the head of state affirmed.
Last week, a total of one thousand soldiers were sent to help put out the forest fires in South Sumatra.
"Previously, one thousand soldiers had been sent to Ogan Ilir, Musi Banyuasin, and Banyu Asin due to the concentration of forest fires in the three districts. Now, we have sent an additional one thousand military personnel to Riau," Jokowi stated.
In addition, the president has also received information about rainfall in Riau.
Even though it rained and the extinguishing efforts are ongoing, however the president insisted that law enforcement efforts should be carried out, so that forest fires will not recur every year.
"I have urged the chief of the National Police to uphold the law, so they (forest fires) will not occur every year. I also appeal to the local government and citizens to jointly extinguish the forest fires," he explained.
Previously, President Jokowi had ordered every stakeholder to help extinguish forest fires and to tackle haze engulfing parts of Indonesia over the past few weeks, National Disaster Mitigation Agency (BNPB) Head Willem Rampangilei stated.
"The presidents instruction on the ongoing haze disaster is to extinguish the fires and to end the haze problem immediately," Rampangilei remarked while visiting the command post of the forest fire task force at the Roesmin Nurjadin Air Force Base, Pekanbaru, recently.
"Within two weeks, plantation fires must be put out," Rampangilei quoted Jokowi as saying.
(Uu.A063/INE/KR-BSR/F001)
Link:
http://www.antaranews.com/en/news/100516/long-term-solution-necessary-to-overcome-haze-problem-singapores-ambassador
https://www.tuk.or.id/wp-content/uploads/2015/09/20150913kebakaranhutan-004meluas.jpg
400
600
TuK Indonesia
http://www.tuk.or.id/wp-content/uploads/2018/12/Logo-Tuk-Indonesia-340-300x136-300x136.png
TuK Indonesia
2015-09-15 18:25:42
2018-12-28 17:49:38
Corporate Crimes and Poor Governance are Producing Transboundary Haze