Large plantations are destroying forests, damaging wildlife and causing social conflict in Asia and Africa, a new report finds.
By John Vidal /The Guardian November 6, 2013
Large palm oil companies that have promised to act ethically have been accused of land grabbing, ignoring human rights and exploiting labour in their African and Asian plantations.
In a damning 400-page investigation, the companies are variously charged with impacting on orangutan populations, destroying tropical forest and burning and draining large tracks of peat swamp forest.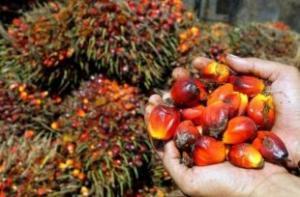 Sixteen palm oil concessions, in Indonesia, Liberia, the Philippines,Malaysia, Democratic Republic of the Congo and Cameroon, all operated by members of the Roundtable on Sustainable Palm Oil (RSPO) were visited by monitors working with international human rights groups including UK-based Forest peoples programme and Sawit Watch, from Indonesia. Local communities consistently accused the companies of not respecting their customary land rights, violating laws and court rulings and acting in such a way that encouraged conflict.
The growing global demand for palm oil has fuelled a massive expansion of plantations across the forests of southeast Asia and Africa but concerns have been growing for over a decade about the resulting environmental and social impacts. The RSPO, set up in 2004 by the industry and civil society groups including WWF, sets criteria for greener palm oil production and tries to encourage industry expansion in ways that do not cause social conflict.
About 15% of the world's palm oil is now certified as "sustainable" by the RSPO, whose members range from some of the largest growers and traders, to relatively small companies.
"Since its founding the RSPO has adopted good standards, but too many member companies are not delivering on these paper promises," said Norman Jiwan, director of human rights group Transformasi Untuk Keadilan Indonesia.
The report will be published on Thursday in Sumatra, where over 10.8m hectares of land has been planted with oil palm trees, to coincide with the annual meeting of the RSPO in Medan, Indonesia.
It follows growing alarm at the way communities in Asia and Africa are being pushed aside to make way for large plantations and the loss of wildlife, including the tiger. Many organisations, including the World Bank, the UN's Food and Agriculture Organisation, Greenpeace and Walhi, have expressed deep concern at the resulting impoverishment of local commuities and the growth of confllict around the concessions.
According to some, the RSPO's voluntary "best practice" rules and guidelines are not working and the organisation is in danger of becoming a figleaf for agribusiness to take advantage of weak land laws.
"Underlying this failure of 'voluntary best practice' are national laws and policies which deny or ignore indigenous peoples' and communities' land rights," said Marcus Colchester, an adviser at Forest Peoples Programme.
"In their rush to encourage investment and exports, governments are trampling their own citizens' rights. Global investors, retailers, manufacturers and traders must insist on dealing in conflict-free palm oil, and national governments must up their game and respect communities' rights."
Concern in the report centres on the Indonesian legal system which is described as "unjust" because it allows land to be expropriated from local peoople without regard for internationally recognised rights. Land laws favour large-scale plantations and lead to the widespread abuse of human rights. The report found that palm oil expansion in the Malaysian state of Sarawak was systematically grabbing Dayak lands without their consent.
"So much effort has been invested in the RSPO … but to little avail," said Jefri Saragih, executive director of Sawit Watch, a founding member of the RSPO. "We can point to one or two good results on the ground, but there are thousands of land conflicts with oil palm companies in Indonesia alone, and the problem is now spreading to other parts of Asia and Africa. We are calling for an urgent and vastly expanded response to this crisis."
The RSPO responded to the criticism in a statement. "Making the palm oil market fully sustainable is possible but only over time, and with the right levels of commitment. The RSPO depends on the goodwill of companies on the ground, and local government authorities, to ensure that these principles and criteria are abided to. There have been a number of cases of non-compliant members."
It further said that it has strengthened its commitment towards human rights, requring companies to implement policies to counter corruption, ban forced labour and forbid use of disputed lands. However, there is no legal compulsion on members to comply with RSPO's principles and criteria.
"Non-complying member organisations can simply opt to leave the RSPO in the midst of a complaint, and consequently they will not be governed by any of our rules. The RSPO closely monitors the activities of its members [but] it has no legal way to enforce its members to comply."
Sumber/tautan:
http://www.alternet.org/environment/major-palm-oil-companies-accused-breaking-ethical-promises
http://www.tuk.or.id/wp-content/uploads/2018/12/Logo-Tuk-Indonesia-340-300x136-300x136.png
0
0
TuK Indonesia
http://www.tuk.or.id/wp-content/uploads/2018/12/Logo-Tuk-Indonesia-340-300x136-300x136.png
TuK Indonesia
2013-11-06 19:16:13
2018-12-28 18:50:28
[http://www.theguardian.com/] Major Palm Oil Companies Accused of Breaking Ethical Promises